More commonly known as Ouroburos.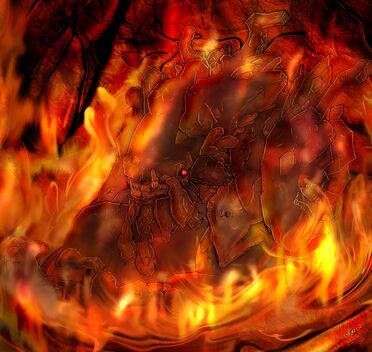 About me
A young boy from the planet of Sauria suffered from a disease known as AIDS. He suffered for thousands of years from it, and devoted his life to exercise and video gaming. To this day, No one knows what any of this meant, but it has something to do with a very dark demeanor. He lives in the outskirts of Clinton, North America and joins with Beecanoe in order to get back their respective possessions back!
Profile
Age: 15
Birthday: January 28, 1996
Height: 5'6, 6'9 (Saurian form)
Weight: Unknown, 322 oz. (Saurian form)
Likes: Video games, exercise, writing poetry, sleeping, heavy metal music, school, technology, Beecanoe, Street Fighter
Dislikes: Rude people, Dr. Light, Megaman, Crowds, King of Fighters's poor voice acting in english, Politics suck!
Hometown: Sauria
Residing: Clinton, North Carolina.
Quotes: "Oh, God!"/"Fuck you!"/"There's a time and place for everything, but not always..."/"The force will always be with you... Always"/"Shoryuken!!!"/"Beep Beep Beep"/"Arrrrrgh!"/"Get the fuck outside!"
Eye Color: Black, Golden (Saurian form)
Hair Color: Black, None (Saurian form)
Religion: Catholic
Race: Bi-racial
Shoe size (why tell, anyway): 10 1/2
Favorite Food: Sushi, Crab Legs, Macaroni & Cheese, Ramen Noodles, Eggo Waffles.
Favorite Drink: Root Beer, Sweet Tea.
Favorite Movie Genre: Horror.
Favorite TV Shows (to name a few): Family Guy, South Park, Beavis and Butthead, Celebrity Deathmatch, Xavier: Renegade Angel, Robot Chicken, The Andy Milonakis Show, Viva la Bam, Wildboyz, Bully Beatdown, MTV2 Headbanger's Ball, The Simpsons, Regular Show, WWE Friday Night Smackdown, King of the Hill.

Favorite Movies (to name a few): Saw 3D, Hellraiser, The Grudge, My Bloody Valentine, Friday the 13th, The Exorcist, Mrs. Doubtfire, Little Nicky, Grandma's Boy, Hatchet, Wrong Turn 2: Dead End, Slither, House of Wax, Snoop Dogg's House of Horror, Zombieland, The Simpsons Movie, South Park: Bigger, Longer, Uncut!, The Hills Have Eyes, The Ring 2, Pirates of the Carribean
My Favorite Game Ideas I've Done:
Purpose on Game Ideas Wiki
My only true purpose on this wiki is to create various video game ideas. In fact, there was no work on this wiki so I teamed up with Beccanoe to do some articles and help improve this Wiki. If anything, I will want a total of 300 articles on GIW if so. That is my goal and I will do it!
My Favorite Games
Super Smash Bros. (Nintendo 64)
Super Smash Bros. Brawl
King of Fighters XII
King of Fighters XI
Marvel vs. Capcom: Clash of Superheroes
Marvel vs. Capcom 2: New Age of Heroes
Marvel vs. Capcom 3: The Fate of Two Worlds
Metal Slug 3
Blazblue: Calamity Trigger
King of Fighters XIII
Snk vs. Capcom: SvC Chaos
Street Fighter III: 3rd Strike
Super Street Fighter IV
Naruto Shippuden: Ultimate Ninja Storm 2
Bleach: Heat the Soul 6
Bleach: Heat the Soul 7
Castlevania: Curse of Darkness
Family Guy Video Game!
Tetris Attack
Super Mario World
Super Godzilla
Disney's Aladdin (SNES version)
Super Mario 64
WWF War Zone (Nintendo 64)
WWF No Mercy
Mario Kart 64
New Super Mario Bros. Wii
Mario & Sonic at the Olympic Winter Games
Capcom vs. Snk 2
Mega Man 2
Kingdom Hearts: 358/2 Days
WWE Smackdown vs. Raw 2004
WWE Smackdown vs. Raw 2008
Tatsunoko vs. Capcom: Ultimate All-Stars
Pokemon Stadium
Pokemon Stadium 2
Pokemon Battle Revolution
Mortal Kombat: Armageddon
Dragon Ball Z: Budokai 3
Dragon Ball Z: Budokai Tenkaichi 3
Dragon Ball Z: Budokai
Sonic Adveture 2: Battle
Sonic Unleashed
Star Wars: Battlefront 2
Guitar Hero 5
Tekken 3
Tekken 5
Tekken 6
Tekken Tag Tournament
Twisted Metal: Black
Kirby 64: The Crystal Shards
Pokemon Puzzle League
Art of Fighting
Fatal Fury: King of Fighters
Street Fighter Alpha 3
Tekken Tag Tournament 2
Street Fighter X Tekken
Tekken X Street Fighter
Devil May Cry 4
WWE Smackdown vs. Raw 2011
Sonic Colors
Hokuto no Ken: Ken's Rage
Game Genre Rankings
Favorite Game Genre: Fighting
Second Favorite Game Genre: Action
Third Favorite Game Genre: Puzzle (Tetris Attack outranks this a whole lot!)
Least Favorite Game Genre: Racing (Mario Kart's not bad at all)
My Associations
Beecanoe
Facebook
MySpace
YouTube
FUNimation Forum (my account is BlackBloodEternity14)
Geniusguy445
Clinton High School
Sega
Capcom
Snk Playmore
Arc System Works
Aksys Games
Eighting, Ltd.
HAL Laboratory
Top 10 Worst Games
Bugs Bunny's Birthday Blowout
Street Fighter EX
SingStar
Ultimate Band
King of Fighters XII
Mario Bros. The Lost Levels
Sonic the Fighters
Dragon Ball GT: Final Bout
Guilty Gear: Isuka
Sonic 3D Blast
Role in Epic Saga
Full article: Jared the Saurian
Music
Favorite VGM Composers: Yuki Iwai, Yuzo Koshiro, Jun Senoue, Daisuke Ishiwatari, Masato Kouda, Tetsuya Shibata, Satoru Kosaki, Tetsukazu Nakanishi, Michiru Yamane, Tate Norio, Hideki Okugawa, Koji Kondo, Hirokazu Ando
Favorite Genre: Heavy Metal
Second Favorite: Electronica

Favorite Artist: Daft Punk

Third Favorite: Death Metal

Favorite Artist: Cannibal Corpse

Fourth Favorite: Alternative [to a lesser extent]
Fifth Favorite: Rap [can actually be placed in between second and fourth favorites]

Favorite Artist: Wu-Tang Clan