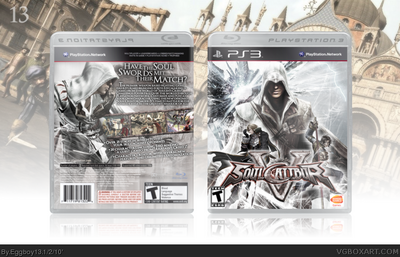 &nbsp
Soulcalibur V is the thrilling sequel to Soulcalibur IV. It is for the Playstation 3, Nintendo 3DS, Wii U, GigaCom, and Xbox 360. Everything from the previous game has returned, including the guest characters Yoda, Darth Vader, the Apprentice Starkiller, and Kratos. Gameplay is now enhanced, with newer techniques being able to execute and also more combos being combined with them.
List of Characters
Returning Fighters
Mitsurugi
Taki
Cervantes
Siegfried
Nightmare
Cassandra
Sophitia
Astaroth
Ivy
Kilik
Yoshimitsu
Talim
Amy
Rock
Lizardman
Maxi
Raphael
Setsuka
Seoung Mi-na
Algol
Hilde
Zasalamel
Tira
Voldo
Xianghua
Yun-seoung
Angol Fear
Shura
Kamikirimusi
Ashlotte
Scheherazade
Revenant
Ukon
Marienbard
Shadow
Solnhofen
Azola
Helmwige
Z.W.E.I.
Natsu
Patroklos
Pyrrha
Leixia
Hwang Seong-gyeong
Li Long
Necrid
Edge Master
Abyss
Night Terror
Olcadan
New Fighters
Belphegor
Sid
Daemon
Xros
Hikasuya
Xion
Raiden
Morphaemos
Guest Characters
Darth Vader
Kratos
Yoda
The Apprentice Starkiller
Altair ibn La-Ahad
Link (Wii U, 3DS; from The Legend of Zelda): Based on Ocarina of Time attire
Jared Raigon (GigaCom; from Epic Saga): Based on Epic Saga V: Those who Fight attire
Beecanoe Drygly (GigaCom; from Epic Saga): Based on Epic Saga V: Those who Fight attire
Master Chief (Xbox 360; from Halo): Based on Halo 3 attire
Kamina (all versions; from Tengen Toppa Gurren Lagann)
Cloud Strife (all versions; from Final Fantasy VII): Based on Kingdom Hearts [1] attire
Marth (Wii U, 3DS; from Fire Emblem): Based on Super Smash Bros. Brawl attire
Jak (Playstation 3; from Jax and Daxter: The Precursor Legacy): Based on Jax 3 attire
Other Information
Publisher: Namco Bandai Games (North America), Nonadison Lmt. (Europe, Japan)
Developer: Project Soul
Platform: 1-2 Player Fighting Simultaneously (1-8 Player via Playstation Network, Nintendo Wi-Fi Connection, Xbox Live, or GigaStream)
Rating: ESRB - Teen, CERO - B, PEGI - 12+
Trivia
This game idea is currently in conflict because of an actual Soul Calibur V in development.
Community content is available under
CC-BY-SA
unless otherwise noted.