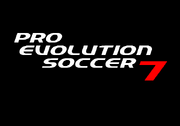 Pro Evolution Soccer 7 (known in Japan as ISS Pro Evolution 4) is a 2012 football game developed by Konami. It is the return game of PES 7, since switching new title. The game will be released for the PC, Xbox 360, and PS3, in Europe on October 15, 2012 and October 26, 2012 in Japan. Wii U, 3DS, PS2, and PS Vita versions will also be released on October 31, 2012 in Europe and on November 5, 2012 in Japan. It will be the last PES video game to be released for the PS2.
New Features
The game contains the same graphics and elements as PES 2013 does. The game also introduces an Online Shop (Hosted by evo-web.co.uk ) where you can download any kits, stadiums, faces, and original players as well as unofficial patches.
Content
Unlike the previous game, Primeira Liga was removed when Konami failed an attempt to get licensed. This is the second time that Konami has removed it from the leagues, the others ones are Budnesliga. The game introduces an English Second League Coca-Cola Championship. English First League contains an almost partially-licensed team.
The following leagues are fully licensed:
France : Ligue 1
Netherlands : Erdivise
Spain : Spain La Liga
The following leagues are partially licensed.
England (Premier League) 9 team licensed:Manchester United,Manchester City,Chelsea,Arsenal,Aston Villa FC,Liverpool,Newcastle United,Everton FC,Sunderland AFC. English Second League (Cocoa Cola Championship) 1 Licensed:Cardiff City
Italy: Italian League (Serie A) All Clubs Licensed but League is Not.
English Second League is Not Included in the iOS,WII,PSP and PlayStation 2 Versions of the Games.
National Teams
The Game Contains 89 National Teams
Updates for
Fully Licensed
New Teams Added
Africa
Algeria
Burkina Faso (New)
Cameroon
Côte d'Ivoire
Cape Verde (New)
Egypt (Fully Licensed)
Ghana (Fully Licensed)
Guinea
Mail
Morocco
Nigeria
Senegal
South Africa
Togo
Tunisia
Americas
Canada
Costa Rica
Cuba(New)
Honduras
Mexico
Jamaica (New)
Trinidad and Tobago
United States (Fully Licensed)
Argentina
Bolivia
Brazil
Chile
Colombia
Ecuador
Paraguay
Peru (Fully Licensed)
Uruguay (Fully Licensed)
Venezuela
Asia/Oceania
Australia
Bahrain
China PR
Iran
Iraq
Japan
Jordan
Kuwait
Laos (New)
North Korea
Malaysia
Qatar
Oman (New)
Saudi Arabia
South Korea
Syria
Thailand
United Arab Emirates
Uzbekistan
Indonesia
Europe
Albania (New)
Austria
Belgium (Fully Licensed)
Bosnia and Herzegovina
Bulgaria
Croatia
Czech Republic
Denmark
England
Finland
France
Germany
Greece
Hungary
Republic of Ireland
Israel
Italy
Kazakhstan(New)
Montenegro
Lithuania(New)
Netherlands
Norway
Poland
Portugal
Romania
Russia (Fully Licensed)
Scotland
Serbia
Slovakia
Slovenia
Spain
Sweden
Switzerland
Turkey
Ukraine
Wales
Other Teams
NK Dinamo Zagreb
Sparta Praha
CSKA Moscow
F.C Copenhagen
HJK Helsinki
FC Brenfica
FC Porto
Sporting Lisbon
AEK Athens
Linfield F.C.
Rosenborg Ballklub
Molde Fotballklubb
Bayern Munich
Borussia Dortmund
FC Rubin Kazan
FC Zenit St. Petersburg
Celtic FC
Rangers FC
AIK
FC BASEL
Beşiktaş JK
Fenerbahçe SK
Galatasaray A.S.
Shakhtar Donetsk
FC Dynamo Kyiv
C.A. Boca Juniors
River Plate

Sydney FC

==External Links== Coming Soon...