Nightwing is the upcoming action-adventure game developed and published by Rockstar Games. The game has been scheduled to be released in second quarter 2014 exclusively for PlayStation 3, PlayStation 4, and PlayStation Vita. The story focuses on the story of Dick Grayson A.K.A. Nightwing, after the death of Batman. The game was originally set for release in early 2013, but was pushed back due to disputes with ESRB ratings.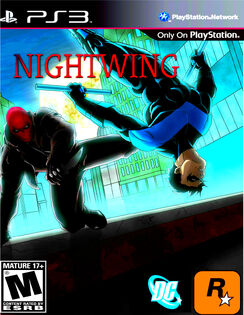 Cast
Quinton Flynn as Dick Grayson/Nightwing
Jensen Ackles as Jason Todd/Red Hood
Wade Williams as Roman Sionis
Dee Bradley Baker as Victor Zsasz
Grey DeLisle as Selina Kyle/Catwoman
Vincent Martella as Tim Drake/Robin
Bruce Greenwood as Bruce Wayne/Batman
Kimbelry Brooks as Barbara Gordon/Batgirl
Mark Hamill as The Joker
Troy Baker as Harvey Dent
Lex Lang as Mayor Hamilton Hill
Plot
During a lethal battle between the manical Joker and Gotham City's masked vigilantes, Batman and Nightwing, the Joker is apprehended by the Caped Crusader and his ally. But, not long before Batman can take the Joker back to Arkham, a sniper shoots him twice through the chest. The Joker gets away and the Dark Knight is left in a critical condition. Nightwing makes an attempt to save Batman, but knowing his time is done, Batman tell Nightwing that is time for him to protect Gotham on his own. Batman dies, and Nightwing is left with the task to be Gotham City's new guardian. (To be continued)
Game Modes
Story Mode
Follow the story of Nightwing in his journey for revenge against the assassin who had murdered the man who treated him as a son. Co-op is available, with the second player playing as Batgirl and Robin.
Combat Challenge Mode
Put yourself against multiple enemies in a timed trial to round up enough points to place on the leaderboards. Leaderboards are updated every weekend. See if you can make it to the top twenty fighters!
Gameplay
The gameplay is that of similarities with Red Dead Redemption with the experience of free-roaming throughout Gotham City, and similar combat gameplay with the Batman Arkham Series.
Unlockables
Costumes
Characters
Reception
ESRB Rating